Archives for February 2009
You had to know it was coming, right?  Mr. Brodeur, to the Colorado Avalanche: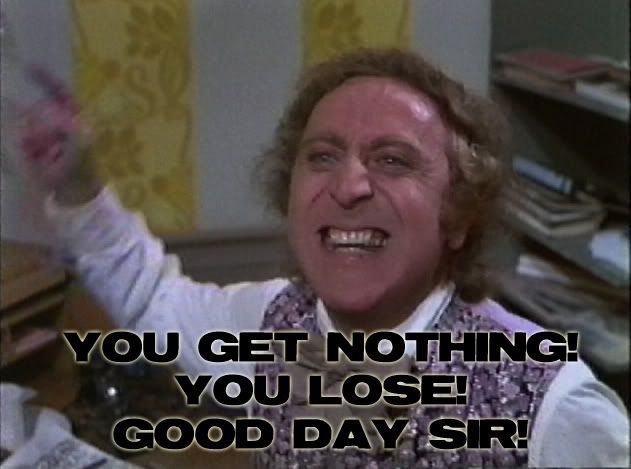 I love our shutout picture.
It's funny how the more things change… the more they stay the same isn't it??? For the first time in what feels like forever, the Devils are at 100% full-strength… and kinda just took it out on the Avalanche essentially (and entertainingly) toying with them all game…. it's 7 years late… but oh well… can't bitch too much tonight!! And yeah there was an important injury return or two tonight…..
— I had to start with this here because I wasn't sure where to put it since it's neither good nor bad nor funny …. so it goes first…. comments on the return of MB30 (and get used to it I will not call him by his name as long as he wears that damn mask which is not only ugly and silly looking but it will drive me INSANE until it's burned in a fit of roid rage… wait that's baseball players…. taking off the team logo and putting your own stupid logo is the classic "I am more important then the team thing" (guess the hockey Gods showed him this year :p)…. and it just annoys me… but i'm good at being annoyed)… yeah he looked good and played well… was hardly tested… hell Zach Parise had the best save of the night…. and it was nice to see MB30 get the big pop from the crowd on his return… but geeezeeeee… you'd think this team was the 8-9 seed and fighting for their playoff lives instead of a-top of the conference….
And I guess this leads to part 2 of my whole MB30 time here…. I was kinda worried about this… and in a few ways… kinda sad he's back… I know… you just spit out your coffee… but here let me explain and no matter how blind an MB30 backer you may be… admit it… the 4 months without him have been FUN and about this ENTIRE TEAM… and not some guy chasing an empty regular season record that NO ONE cares about (well two of them if you count shutouts)…. each night was kinda fun an unpredictable… and it's why this year has been the most fun I've ever sat through as an observing fan… and I guess I'm just bummed out the ride is over… it's like the teacher is back in the classroom and it's time to get serious, ya know?
the Good:
— this was the most alive I've seen the crowd in the building for a non-Ranger game in a long long long time, and that was kinda good to see people come back to life (and any night you have a 20 minute chant about T-Cells…. it's fun!!)
— Paul Martin was back too and didn't seem to skip a beat, hell he even had two assists!
— Zach Parise had a sick game… the goal of the night… the save of the night and kept the play alive in that 2 minute sequence where Zajac FINALLY scored (it looked like an NHL 09 shift where you just keep shooting until there is no surrender!!) MVParise!!!!!!!!!!!!!!!!!!
— Elias and Gionta also both looked pretty sharp tonight and it was nice to see Patrik get in the goal column again… if those two top lines are going come tax time, this team is going to be a MAJOR force in the NHL Playoffs
— so now MB30 has a 4 month shutout string eh?? *heh*
— blinking and see 1-0 Rangers, become 2-1 Panthers… I admit I *LOL*-ed a tiny bit!
the Bad:
— Man Colorado is a dreadful team… no life… no effort… less goaltending, some of that was the Devils buzzsawing them
— ummm… it's kinda hard to find something else out there to bitch about in this one, penalty killing was perfect, power play clicked…. 4 goals, Elias scored… well you can say that the 3rd and 4th lines were kinda
quiet and Holik was not-so-good… but then you're just pissing on the MB30-party…
the Funny:
— on my way to arena some silly person trying to scam money from people by asking for bus-far since "his brother never came to pick him up"…. I feel the need now to carry a sign "HOCKEY FAN CARRIES NO CASH" just to keep that kinda crap to a minimal level.. and besides… I never DO carry cash (well unless the people I sell my extra tickets to actually pay me that night!)… my poor debit card looks more used and beat up then any level of Sean Avery sloppy seconds… heh an Avery joke in MB30-reunion night….
— as I was walking my laps before the game I saw some fan who looked JUST LIKE Bobby Holik (well just a lot younger and skinnier… poor bastard… well unless it's his kid… then he's justa rich, ugly bastard :p)
— I do always get a kick out of some stuck-up hockey mom getting pissy at the over the top and way drunken commentary from our section (and like I said… 209 was ALIVE tonight)… but this silly mom… it's ok for your 4 year old kid to say that Scott Gomez loves the cock (and he's in the right place for it… well unless the NHL goes to San Francisco)… but yet you get upset and cover the kids' ears when they make a silly joke about "T-Cells….. but who's buying"… CMON HOCKEY-MOM!!!! Parents are weird I tell ya!
This is it children.  It's been a long time.  Painfully long.  I think I speak for most Devil fans when I say, I've been counting down the days.  Waiting, hoping, wishing.  And now the day is finally upon us.  The man is back on the ice.  The myth.  The one simply known as Martin.
Yes gang, Paul Martin returns to the ice for New Jersey tonight when they take on the Colorado Avalanche at the Rock, after missing four games with an undisclosed "upper body injury."  Wait, what? …You thought I was talking about someone else?
Oh, right, Martin Brodeur's back tonight too.  Man, sucks to be Paul Martin, huh?
Tonight's game will actually be the first since mid-OCTOBER that the Devils can say that they've had a full, 100% injury-free lineup.  Brendan Shanahan and Bryce Salvador will both be in the lineup after obtaining numerous owies over the course of the recent woebegotten roadtrip that we will now forget ever happened.  I guess Florida, Tampa, and Islander players just don't like B.S. (get it?).
So, with a full lineup, some people are going to have to make their way over to the healthy scratch list, and surprisingly, Jay Pandolfo ain't one of 'em!  Super Jay's in tonight's lineup.  In his place in the press box is a (presumably) not-very-happy Mike Rupp.  Jay Leach also sits tonight.  Anssi Salmela was sent back to Lowell the other day with Mr. Scott Clemmensen, who may or may not have seen his last days in a Devils sweater this season – we'll know the answer to that a little better in about six days.
So with Marty back, the biggest question, of course, is "is he ready?"  Judging from his responses in various interviews over the last few days, I'd have to say that he is.  I would hope he, Brent Sutter, Lou, and everyone involved in the organization realize that he's coming off major surgery and the first extended injury break of his career and that caution is the key.  I don't think they'd be stupid enough to allow Marty to dictate when he returns, which makes me feel that yes, he's ready for NHL-level action today.
Once he's back, Marty may want to play every day, but it will be imperative that Weekes (and maybe Clemmensen) get some time in to spell #30.  The first test of that will be this weekend, two games against teams in the thick of the playoff race on back-to-back AFTERNOONS.  If Marty plays both of them, I may pop a blood vessel in my frontal lobe.  Kevin Weekes should be playing Saturday, period, and with apologies to those who bought tickets already.
But, that's another worry for another day.  Tonight, we sit back and enjoy the return of a Hall-of-Famer.  The timing couldn't be better to get his feet wet, either:  Four days off before this game, against the worst team in the Western Conference.  The Avalanche, while still in the playoff race out west – it's rather bunched up at the bottom of the conference – are also coming into New Jersey in the midst of a ridiculously long road trip.  Marty should be getting a cupcake team tonight to start his big return (no fat jokes, please).
As a programming note, for those who can't be there tonight, the MSG network was kind enough to switch this game from MSG+2 to regular old MSG+.  You know what this means – HIGH DEF HOCKEY!  Sucks if you're an Islander fan tonight.  As usual.
And of course, when one comes back, you lose another.  We'll miss you 'round these parts, Patty.  Hopefully you'll be around enough to lend some incite from the land of thick pizza and funny shaped buildings.  Also, I love the full circle-ness of your two big posts this season, covering Marty's injury in the days after it happened, and now saying goodbye the day he comes back.  Well played, Miss Greuter, well played.  I think I speak for myself, Joe, Steve, Scott and 2MA fans worldwide when I say, this place just won't be quite the same without ya.  Godspeed in the Windy City P!
So it's been a while, huh?
I do whole heartedly apologize for my severe lack of postage this season.
You see, times have greatly changed in the life of Ms. Greuter, and as times change, well, so does everything else.
As of Saturday, I will be relocating to the Windy City to not become a Chicago Blackhawks fan.
(Albeit, I am somewhat concerned for the safety of my Jersey-plated car with Devils logo sticker on the rear windshield.)
I will still root on the boys, friends, do not worry. Heck, I'm even going to the Devils game out in Chicago in late March, proudly donning my Parise sweater as my newly converted Devils fan roommate will be wearing a Clemmensen sweater. (CLEMMY I MISS YOU ALREADY!)
Will I realistically be able to post much on 2MA now that I go to a land of White Sox wearin', Cub lovin' Hawk fanciers? Likely not. This is, however, the time when I'd like to thank my partners in crime for picking up the slack in my absence. Josh, Joe, Scott, and Steve — you guys are each awesome individuals and I am proud to have worked with such amazin' fellas. And 2MA fans, you guys aren't off the hook either! I'd like to thank each and every one of you for reading my absurd livecaps, laughing at my ridiculous images (do we see a pattern here?), and just for, well, you know, tuning into the site.
On this solemn note, I bid each of you adieu.
Much love and Zubbie goal counters,
Patricia
PS~ Keep in touch with me on the 2MA Facebook or on my personal Facebook page!
Perhaps THE league-wide storyline of the season thus far has unfolded between the pipes on Mulberry St in Newark, NJ.
Put yourself in this situation: The new NHL season is still in its infantry, less than a month old. Your team has high expectations going into said season and so far is playing well. Everything looks peachy.
Then it happens. On a seemingly harmless and routine play, your whole season changes completely. Your all-star goaltender is toppled on the ice, and you soon find you'll be without him for at least the next FOUR months.
Shit.
What's a team to do? The answer was obvious — call on your third-string minor league starter to handle the workload of a sure-fire hall of famer who is regarded as the best the league has ever seen.
Wait, what?!
That is exactly what Scott Clemmensen was called upon to do. Instead of curling into the fetal position on the shower floor of the teams locker room — rocking back and forth like a rape victim (which is exactly what I would have done) — the man from the hockey hotbed of Des Moines, Iowa rose to the occasion and embraced the challenge with open arms.
The league laughed. Rival fans laughed. Everyone gathered with open eyes to watch the public humiliation that was supposed to be the remainder of the New Jersey Devils season.
Fast forward. Sixteen weeks have passed — almost to the day. With the duo of Clemmensen and Kevin Weekes taking care of business, the New Jersey Devils are sitting comfortably atop the Atlantic Division. They own winning records against the leagues top teams in Boston and San Jose. The offense has compiled 31 more goals than the "offensive machine" across the Hudson, and Clemmensen boasts a .917 Save %, compared to "King" Henrik's .913%. But Ranger-land is far too consumed in their own self-loathing to notice.
Call it a miracle, call it a team coming together, call it downright luck for four months. The one thing you cannot deny is that Scott Clemmensen has saved the season for the New Jersey Devils.
However, this story could have an almost tragic ending as Martin Brodeur is slated to return tomorrow night when the Devils host the Avalanche. The possibility is high that Scott Clemmensen will not be with us come March 4th. As much as it would hurt to see the man go, I can only say Thank You. If your fate does bring you to a different locker room next week, we wish you the best of luck in all your endeavors for the remainder of your NHL career. This whole season will be talked about for quite a long time and you, my friend, are a huge part of the reason why.
From the crew here at 2ManAdvantage.com, and on behalf of Devils fans across the Nation and around the globe, we thank you for everything. Thanks to you, we'll never have to hear "You're nothing without Brodeur" from another fan ever again.
The best part of the season is about to get underway, and I haven't been this optimistic in years.
Let's Go Devils!
Alright, so let's establish the obvious — last night sucked. The game sucked, the line-shuffling sucked, wasting a house full of Devils fans sucked, and the hoards of obnoxious children sitting in front of me sucked. Oh, and the Islanders trapped us like a bunch of fools all night long. That sucked, too. Seriously — how the frosty hell do you get shut-down by you're own defensive style?! Jeebus.
Moving on, there's only one thing I think that sucked more than the aforementioned suck-factors: The way the Islanders are getting shafted by the Town of Hempstead.
It truly was a disgusting display of "affection" by the town at last night's game. Ok, we all know the situation with the Lighthouse Project, right? Well, if not, you'll have to do your homework before you can understand this. But, let's begin with the ceremonial puck-drop preceding the game. Town Receiver of Taxes, Donald X. Clavin, Jr., was greeted to a downpouring of boos as he walked out to drop the puck between Jamie Langenbrunner and Bill Guerin. Later on, during a TV-Timeout, a video played to a packed Coliseum from Hempstead Town Supervisor Kate Murray proclaiming "We're All Islanders!" and "Hempstead Loves The Islanders!" — her promo was even more ill-received than Clavin's puck-drop. Not to mention the loyal Islander fans are being teased mercilessly as every game they are shown the preview-promo of the Lighthouse Project before the pre-game warmups.
Just seeing the Town slap the team in the face with that kind of blatant "we're pretending to give a sh!t" PR-attempt was downright nauseating. I mean, c'mon. Ok, yes, I am a Devils fan. But I live on Long Island and have respect for the Islander franchise — as almost all Devils fans do — and, despite the rivalry, I would love to see the Lighthouse Project become a reality. However, if Hempstead is not willing to pony up the cash to get the project rolling, they should keep their promos and fake-love the hell out of the Coliseum and anything else related to the Islanders. The fans aren't stupid and don't deserve to see half-hearted, smile-through-your-teeth "apologies" from the town that is pretty much banishing the franchise from the Island altogether. It's a bush-league way of giving the proverbial "finger" to one of the Island's greatest assets – the fans that practically empty their wallets to sit in a Mausoleum and watch the NHL's worst franchise try to stay alive.
I may not feel your pain, Islander fans, but I feel for anyone that has to take it on the chin like that from their elected officials. Hopefully, the overwhelmingly negative reception of those promos will open some eyes and get something rolling.
Oh, and nice job on the shut-out.
Bastards.
So I missed Tuesday's game.  Probably a good thing.  I'm also going to miss tonight's game.  Not a good thing.  Especially for, y'know, updating our much-loved blog.  Sorry gang.
I will, however, at very least be WATCHING Saturday's game against the Islanders.  I may or may not LiveCap it, depending on where I'm watching from.  Regardless, it's probably going to be slow going around here for the next handful of days or so, so please accept my apologies ahead of time.  Next week is a rough one between school and work, but immediately afterward it should be smooth sailing into Mr. Martin Brodeur's glorious return to the pipes and the rapidly-approaching trade deadline.
Thanks as always for sticking with us!
Anyone else kinda think NBC screwed up a little bit this weekend??? I mean yeah… the world needed to see Mike Richards (and every idiot on TV call him BRAD at least once.. morons) score that hilarious 3 on 5 shg on the Rangers… hell I damn near fell off my Sun Tavern Bar Stool!!! But even with that in mind… holy shit that was some game in Newark yesterday wasn't it???
Again sorry this is so late… when you get any kinda cold it goes right to my asthma… and to say I feel like shit is an understatement… but I didn't miss one game (I did nothing else all week outside my house)… but I went to all 5 home games…hooray… someone buy me a cookie… or let me cough on you so i can pass this shit on and feel better!!!
the Good:
— CLAUDE LEMIEUX WAS BACK!!! And he got to start the game so we gave him a nice cheer (him and Randy McKay are my all time favorite Devils bar none!)… sucked that he wasn't announced as the starter so he could get a proper ovation!!
— Secondary scoring… nice to see Rolston, Clarkson and Elias on the scoresheet at last… as great as the top line is they can NOT be getting 3 points a night and we won't go far that way….
— Power play goals! Any night we can yell fuck off Sam Rosen three times, I wholly approve of (hell even scoring the RIGHT way on a 5 on 3 was nifty!!)
the Bad:
— ….. once the standing ovation was over… Claude… kinda… sucked… maybe the comeback.. not so good idea, pepe?
— NO DAN BOYLE!!!!!!! We spent weeks planning a Section 209 Frontal Assault on mister's house was burning down… apparently he was burning up with fever!!!
— Paul Martin skates in warmups… then disappears?? (thank God he wasn't traded… I was almost worried Lou did something batty)
— I was pissed off last year when Nabby was hurt and the ONE GAME he did not play all year was the one in Newark… so finally I get to see him live… and man he was just AWFUL, but I do watch much Shark games and that whole team looks in a funk…. but still nabby and kipper are my two favorite goalies in the league to watch and as a goalie it kinda annoyed me that he sucked… and you knew Clemmy was due for a 5-burger after somehow having a shutout streak… after all.. brian boucher… he… is not!!!!
— Brian Gionts JUST TOO SHORT to get that gimmie pass from Zubrus on the anti-Clarkson wraparound pass!!! *grrr*, though I milk the Gionta short jokes like NBC does Cindy Crosby!
the funny:
— you could tell amongst the season ticket holders that 5 games in what 9-10 days… it's a bit MUCH… and I think we're just a little bit sick of each other… it's like that girl that asks you for a break and some space…. except we'll actually be ok in 10 days when we see each other again! (wait to see the pissy on the back to back matinee games coming!)
— Sammy walking up and down the aisle by the two nice looking girls in sharks jerseys holding the banister and yelling EARTHQUAAAKKKKKEEEE …. yeah that was a site!!!
— We still had our Dan Boyle moments (after all, he's still the star for having his house burn down!!)… they played Springsteen's Dancin in the Dark… [i]Can't start a fire… can't start a fire without a spark…..
Dan Boyle's for hire… even if his house is burning in the dark!![/i]
— 5 on 3 shorthanded goal!!!! I can't help it… I literally put my head down on the bar before the game turned to Brian and said dude "I am LOL-ing"… tears were shed … really!!
5:41 PM: Stats:  Clarkson with two goals.  Parise, Rolston, and Gionta with two assists (Gionta with the first goal, as well).  Four game winning streak – including two in a row over the two best teams in hockey.  What a weekend.  That's going to do it for me today.  Goodnight everyone!
5:39 PM: Stars of the game:Â  Clarkson, Langenbrunner, Elias.
5:38 PM: GAME OVER!  DEVILS WIN, 6-5!  Devils give the Sharks their first regulation loss when leading after two periods.  Good god what a game.  You coulda had this on national TV, NBC.  Bite me!
5:36 PM: Empty net for the Sharks.  Also, Clarkson gets credit for the last goal, not Rolston.  Thirty seconds to go in the game, the penalty is over!
5:35 PM: Minute and thirty to go in the game, a bit over thirty seconds to go in the power play, and the Sharks take a time out after Clemmer gloves down a shot.  Holy hell this is gonna be one hell of an ending.  Have I mentioned that NBC totally BLEW IT?!
5:34 PM: This. game. is. NUTS.
5:33 PM: Oduya gets called for…something…on Setoguchi.  Sharks to the PP.  Meep.
5:31 PM: ROLSTON!  GOOD GOD, every time he scores on a shot like that, the money we're paying him becomes more and more worth it.  BIG blast from the top beats Nabakov, screened by Clarkson.  6-5 Devils and three minutes left in regulation.
5:30 PM: Parise has done ust about everything offensively save for score a goal.  I'd wager he's at seven or eight shots and some great passes.  Only a matter of time, I think.
5:29 PM: Clemmensen is NOT having a good game.  Gets mixed around behind the net trying to play the puck.  Joe Thorton gets whistled for a cross-check, though, so…opportunity is there now.  Let's get the lead kids.
5:25 PM: Thorton pulls a Lyle Odelin and passes to the goalie.  Haha.  Probably not as intentionally as Odelin, but still.
5:24 PM: Less than eight minutes to go in the third.
5:21 PM: Gio with a rocket of a shot that bounces off the post, and the PP is over.  That…was not so good.
5:20 PM: Oh for christ sake.  Pavelski picks it up on a turnover in the neutral zone and beats Clemmensen with a backhand, and we're tied again on a shorthanded goal.  Dammit.
5:19 PM: Joslin dumps a puck over the glass – that'd be a delay of game, and the Devils get themselves another PP.  Let's try and extend the lead a little, yes?
5:16 PM: Parise and Zajac with the assists on the Cap'n's goal.
5:14 PM: YES!  Parise with a drive, big rebound to Captainbrunner who jams it home!  5-4 Devils with the lead, 12 minutes to play in the game!
5:13 PM: Not a great start to the power play, as Johnny O can't hold it at the point.
5:11 PM: And there's our make-up call for the bad penalty against Colin White at the end of the second – at least I assume so anyway, because Mike Rupp drew it.  I'd like to see a replay, but MSG+ would like me to see that guy who talks about how great the local teams are instead.
5:10 PM: And that's the end of the power play.  But we're tied.  And that's pretty awesome.
5:09 PM: Devils still on the PP for another 35ish seconds.
5:08 PM: WHOO!  THAT'S what the power play should look like!  Hard-working all around.  Parise hammers a shot in on Nabokov that's stopped, Parise throws the rebound through the crease at Elias jams it home! Elias with the goal on the 2 Man Advantage, because Patty loves us.  Tie game!
5:06 PM: Clarkson gets whomped into the boards, crumbling in a heap.  Ehrhoff gets the penalty, Devils get a 2 MAN ADVANTAGE for 30 seconds!
5:05 PM: Devils are really buzzing on this power play – a handful of shots already and even more chances.  A minute and change to go.
5:04 PM: Penalty to Thorton for a hook – a legit call, which means we're still owed some makeups from previous bad calls dammit.  Regardless, it's a power play.
5:03 PM: Okay, penalty to Captainbrunner over, we're back to full strength.
5:01 PM: Third period on.  Devils still on the PK, and still down by a goal.  The Sharks have yet to lose in regulation when making it to the third in the lead.
4:42 PM: Setoguchi scores on a nice pass from Thorton, and it's 4-3 Sharks to end the second.  Devils will still be on the PK for the start of the third.  See y'all then.
4:40 PM: Oh for eff's sake.  Captainbrunner goes down with a trip and now it's a five-on-three for San Jose for 1:17.  Dammit gang.
4:39 PM: Mike Rupp with a shot on net, which surprised me because this is the first I've heard of Mike Rupp playing this afternoon.  Colin White takes an interference call and now it's the Sharks on the PP.
4:35 PM: And the inability to convert that opportunity may prove costly, as Cheechoo scores with a blast, re-directed by the stick of Andy Greene on defense.  Game's tied at 3.  Sigh.
4:34 PM: JEBUS!  Elias gets a one-on-one with Rob Blake, waits for Zubbie, Zubbie manages to get Nabakov to wind up way out of net, and then can't get it to anyone in the slot – because no one would get to the slot.  Dammit.
4:33 PM: Kerry "The Hair" Fraser says it was inconclusive, so the call on the ice stands, and it's no goal.  Phew.
4:31 PM: Pavelski gets ROBBED by Clemmensen.  They're reviewing the play and it seems similar to the one that went against us in Anaheim.  Clemmensen's pad is somewhat in the net and there's no way to really tell where the puck is underneath.  Frankly, I think the puck, if in the net, was kicked regardless in the end.  Of course, as we all know, the one in Anaheim went against us, so…let's just wait and see.
4:28 PM: And that'd be the end of another Devils PP.  I think that's 0-for-3 on the day now?  Not good, guys.  Not good.
4:27 PM: Zajac's back on the bench.  Thank you merciful god.
4:26 PM: Ohhh man Parise with a glorious chance in front but can't lift the rebound over Nabakov's pad!
4:25 PM: Devils head to the power play after a high sticking call against the Sharks.
4:24 PM: So with Zajac still out, they're mixing in centers to play with Captainbrunner and Parise, and right now it's Holik.  Now THAT'S scary.
4:20 PM: All penalties have expired, back to full strengh for everyone.
4:19 PM: Johnny tried to dust off last year's Orr-duya smooth skating rush all by himself, but this time he shoots probably too early and misses the net.  Oh well.
4:18 PM: And now Rolston goes down for a slash.  Rollie's picking very bad times to take very bad penalties.  Four-on-four for a minute and a half.
4:17 PM: Clowe goes to the box for an unintentional trip, but a trip nonetheless.  Devils back to the PP, sans Zajac, who's yet to return from the locker room.
4:12 PM: Game sure has settled since the early parts of the first period.
4:09 PM: Zajac just took a stick to the face by Bryce Salavdor.  Crap.  Zajac to the locker room.
4:07 PM: And that's the end of that one.  Not much going on, only one shot on Nabakov.
4:04 PM: Michalek with a huge slash on Zajac's stick, and we get our first PSE&G Power Plaaaaay! of the afternoon
4:02 PM: We be back.
3:43 PM: Aaaaand that'll be the end of the first, Devils up 3-2.  Shots are 11-8 in the Sharks favor.  I'll be back in seventeen, will you?
3:40 PM: Salvador gets tangled up and tripped, no call though.  Can't really tell if it should have been a penalty, but everyone at the arena thinks it was.  Devils have yet to go on the PP this afternoon.
3:38 PM: Hey, what gives, we haven't seen a goal in like five minutes.
3:36 PM: Hey NBC, this is what you missed out on this afternoon, when you just HAD to air Rangers/Flyers.  HA!
3:34 PM: What a wild game.  3-2 and we're only 3/4s of the way through the first period.
3:29 PM: CLARKSON! Devils with a breakout, two on two.  Bad pass but Clarkson grabs a hold of it, spins and whips a deceptively strong shot at the net that I don't think Nabby even saw.  3-2 Devils, assists to Madden and Rolson.
3:25 PM: At least I picked the right game to LiveCap this weekend, based on early returns, eh?
3:24 PM: …where they thusly score.  Patrick Marleau tips one in for his 30th on the season, and the score's tied at 2.
3:23 PM: Aaaand Rollie celebrates with a hook, and the Sharks – who have scored a PP goal in 9 of 10 – head to the power play…
3:22 PM: To quote Steve…"Rolston SHAT SCAARR!"  2-1 Devils, Rolston whips a quick wrister down low through Nabakov.  Madden and Gionta with assists.
3:21 PM: Good looking crowd today.  I'd venture to guess that we may be looking at a sellout this afternoon!
3:18 PM: We looked real good for like a minute there.
3:15 PM: Hot damn.  Big drive by Rob Blake beats Clemmensen cleanly, and we're tied at 1-1.
3:13 PM: No Doc this afternoon, as he was in NYC calling the very amusing 5-2 Flyers victory over the Rangers – one featuring a four goal second period for Philly, the pulling of Lundy (again), and a five-on-three shorthanded goal by Mike Richards that made me laugh very loudly.
3:12 PM: Nevermind, Canjo just answered that – Pepe was not listed as a starter, hence a little confusion at the start of the game.
3:10 PM: Gionta from Patty and Zubbie, 30 seconds in.  Claude Lemieux took the opening faceoff against Patty, btw.  I wonder what kind of reaction he got when they announced his name at the arena pre-game.  Did he get the traditional "(insert player name here) SUCKS!" chant, or perhaps some cheers?
3:09 PM: GIONTA!  I didn't even have time to mention that the puck's on ice and Gio sweeps on in off a pass from Elias and it's already 1-0!
3:08 PM: Apparently Paul Martin is also not playing today due to "upper body soreness," Jay Leach is in.  Shanny was not a surprise, Martin really is…I wonder what happened there?
3:07 PM: Shanny's out for the Devils with general soreness after blocking four shots Friday night with his feet area.  Jay Pandolfo is back in tonight in his stead.  Go Super Jay!
3:04 PM: On the Devils end, three straight wins.  Clemmensen has posted consecutive shutouts and hasn't allowed a goal in seven straight periods, over 140 minutes.  Captainbrunner has nine goals in nine games, Elias has a six game assist streak going, and the team is coming off a 1-0 victory over the NHL-leading Bruins.  Yay!
3:03 PM: So here's the deal.  First, regarding the Sharks:  Yes, Pepe is playing.  He missed practice yesterday due to illness, but he's over it.  Passed it on to Dan Boyle, though, who will miss the game with the flu.
3:00 PM: So there's about twenty other things I should be doing today, but none of them involve two of the best teams in hockey, so here I am, LiveCapping Devils/Sharks for all you loyal 2MA readers.  Let me know you're out there!
Tonight's a big'un.  The Boston Bruins, they of the best record in all the land, make their way to Newark this eve to take on the Devils, they of the nine-wins-in-eleven-games hot streak.  One of those wins came against this very same Bruins team (in Boston, no less).
For the Devils, expect to see Mike Rupp back in the lineup after sitting out Wednesday's victory over the Isles.  The Devils say it was a sinus issue, I say it was a bruised ego after getting knocked silly by Colton Orr in a fight Monday night.  Either way, I expect Rupp will be looking for blood, preferably not his own.
Rupp's return means that Jay Pandolfo sits in the press box again tonight.  Super Jay wasn't bad in Wednesday's tilt, but "not bad" doesn't seem good enough.  Poor Super Jay.
Scott Clemmensen gets the nod in net after sitting Wednesday in favor of Kevin Weekes.  But this is not all that shocking.
On the opposite side of the rink, the Bruins are coming off a 5-2 loss to the San Jose Sharks in Tuesday night's much-balleyhoo'd face-off of conference leaders – the Bruins first loss all season by more than two goals.  The Bruins are also the NHL's best road team, having lost only five times in regulation away from TD Banknorth Garden.  This one ain't gonna be easy, folks.
Scott's at tonight's game, so I'm sure you'll see one of his Thoughts from Section 209's later tonight or early tomorrow.  I'll hopefully be catching at least some of tonight's game and may have something up as well.
Before I go, however, I'd like to extend my sincerest condolences on behalf of all of us at 2MA to the friends and families of those killed in the Continental Airlines Flight 3407, which crashed in Buffalo.  The flight originated at Newark Airport and it seems like a good number of NJ residents were aboard the plane.  Our thoughts and prayers are with those affected by this tragic event.