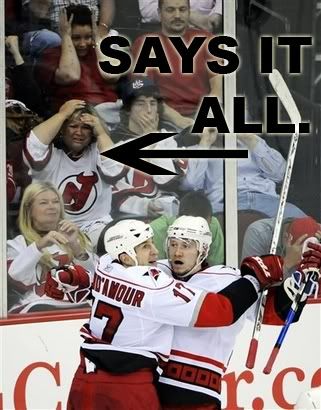 I sit here in my Windy City apartment, fighting back the urge to kick my vibrating fridge, wondering what the heck happened last night.
We were so close.
How does a team go from glory to undeniable shame and defeat in the span of a minute-thirty? No heart? No drive? No courage?
No killer instinct.
Let's face it, boys and girls, this team could have easily put this game away last night. There were odd man rushes, two-on-ones, heck, a four minute man advantage and — nothin'. Nada. Zero. Zilch.
I could go on, but it hurts my heart too much.
Oh, who are we kidding? My heart was ripped from its casing last night and severed to millions of tiny bleeding pieces by the sharpened skates of 23 men.
It hurts.
I do not think this team didn't have the guts to get the job done. The Hurricanes were simply the better team. Aside from flashes of brilliance and a jewel of a Game 5, Cam Ward was the better goaltender.
Our defense is mediocre at best — yeah, Havelid, go hide in a ditch somewhere west of the Delaware. You are not welcome in New Jersey anymore.
While our offense kicked it up seven THOUSAND notches this season, guys like Brian Rolston and Bobby Holik don't hack it. Thank goodness we weren't subjected to Holik's obligatory three stupid penalties last night, and while it's fantastic that Rolston finally got a goal, I'd really like to give another Brian all the credit for that tally. Thank you, Mr. Gionta. Whether your on-ice awareness succeeded or you merely blindly threw the puck towards the boards and it just happened to bounce right to Rolston's stick — I don't care. It was awesome and one of the few things I can actually smile about after last night.
What do we do? Fire Sutter? Plead for Brodeur's retirement? Take the entire defense outside and send them into the depths of Newark, just hoping they won't return safely?
I'm not sure.
All I know right now is that I'm sitting in an apartment with an annoyingly loud vibrating fridge, overlooking the glowing red of the Sears Tower as Chicagoans rejoice, for their team has made it to the second round and mine hasn't.
Life just doesn't seem fair, does it?