The hockey world has lost one of its most beloved journeymen today, and one of my personal childhood favorites. Peter Zezel has passed away after a long battle with a rare blood disorder known as Haemolytic Anaemia.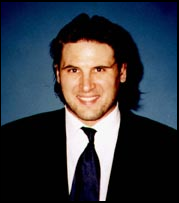 Peter was mostly known for his success and tenure with the Toronto Maple Leafs, but among his many stops he briefly called New Jersey his home. Although he played only 23 games for the Devils, he recorded six assists and fans took very kindly to him — a symbol of the type of person he was both on and off the ice. His NHL career spanned 15 seasons and landed him not only in Toronto and New Jersey, but also St. Louis, Washington, Dallas, and Vancouver. He even made an appearance in the classic hockey movie Youngblood.
It seems to me that more and more professional athletes – hockey players especially – are passing away entirely too early for people that realistically are in peak physical condition for most of their lives. It's almost ironic in a very tragic way.
TSN reports the Zezel family has requested that, in lieu of flowers, donations be made in Peter's name to the James Birrell Fund at the Hospital for Sick Children in Toronto. For those that are interested in donating, checks should be made be payable to "The James Fund" and can be mailed to:
The James Fund
625 Whitaker Street #4
Peterborough, ON
K9H 7L5
Canada


Rest In Peace, Peter, and thank you for your dedication to the greatest game on earth. You will be missed.