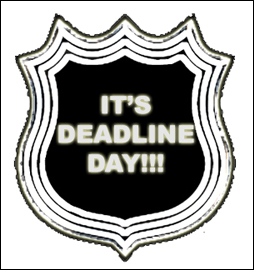 Here we go!! It's a day that is always as hectic as it is fun, and we'll be bringing all the coverage we can, right here — LIVE!
Late breaking reports this morning are that perhaps one of the biggest names being tossed around — Chris Pronger — has been taken off the market. That may put a damper on today's festivities but hey, stranger things have happened.
Refresh this page often as we will be posting trade updates as they break as well as commentary, comment responses, and other tidbits throughout the day.
Enjoy!
___________________________________________________________
3:04PM EST

New York Rangers acquire D Derek Morris.



Phoenix acquires Dmitri Kalinin, Nigel Dawes, Petr Prucha.


JOSH SAYS: BWAHAHAHAHAHAHA!!!!!


———-
2:49PM EST


Toronto acquires 2009 2nd Round Pick & Condition Pick.


New York Rangers acquires Nik Antropov.


———-
2:46PM EST


Phoenix acquires Scottie Upshall, 2009 2nd Round Draft Pick.


Philadelphia acquires Daniel Carcillo.


———-
2:10PM EST


Pittsburgh acquires F Bill Guerin



New York Islanders acquire 2009 5th Round Draft Pick. [The Pick will become a 4th Round Pick should PIT qualify for the Playoffs, and will improve to a 3rd Round Pick should PIT win a Playoff Round.]


———-
1:27PM EST


Boston acquires F Mark Recchi, 2010 2nd Round Draft Pick.



Tampa Bay acquires Matt Lashoff, Martins Karsums.


———-
12:43PM EST


Phoenix acquires Matt Lombardi, Brandon Prust, 2009 1st Round Draft Pick.


Calgary acquires Olli Jokinen, 2009 3rd Round Draft Pick.


Steve Says: I don't like Jokinen, he looks like an angry baby. Nonetheless, I'm glad we won't have to worry about Calgary til the Stanley Cup, 'cos any team that gets the Flames in a playoff series ain't getting out without a pile of bruises with the likes of Phaneuf, Bertuzzi and now Olli on their squad.
———-
12:41PM EST


Boston acquires D Steve Montador



Anaheim acquires F Petteri Nokelainen


———-
12:26PM EST

Toronto claims G Martin Gerber, Eric Reitz off Waivers.
Dallas Claims C Brendan Morrison off Waivers.

Pittsburgh claims Craig Adams off Waivers. Miroslav Satan clears Waivers.
Aaron Voros has cleared Waivers.


———-
12:14PM EST


Buffalo acquires G Mikael Tellqvist



Phoenix acquires 2010 4th Round Draft Pick
———-
11:51AM EST


Pittsburgh acquires D Andy Wozniewski


St. Louis acquires D Danny Richmond
———-
11:44AM EST:


Colorado acquire Lawrence Nycholat, D Ryan Wilson, 2009 2nd Round Draft Pick


Calgary acquires Jordan Leopold
———-
10:48AM EST:

Buffalo has re-signed C Tim Connolly to a two-year extension worth $4.5 million per season.
———-
10:17AM EST:

Ottawa has re-signed D Filip Kuba to a 3-year contract worth $3.7 million per season.
———-
9:59AM EST:


Ottawa Senators acquire G Pascal Leclaire.



Columbus acquires Antoine Vermette, 2009 2nd Round Draft Pick.
———-
9:22AM EST:

LA Kings have signed D Sean O'Donnell to a contract extension. Terms were not disclosed.