What an up and down and left and right and even sideways year this was to review, but as much as we'd like to forget it, we had the rise of Johnny Oduya, the normal Brodeur is overplayed crap, a coach LASTED ALL YEAR(!) and the brand-spanking-new-arena to enjoy! Sit back and try to remember the good AND bad of the 2007-08 NJ Devils season!!
FORWARDS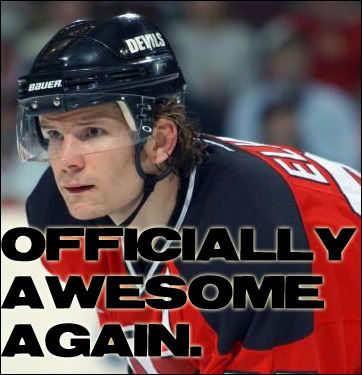 Patrik Elias:
A bit disappointing offensively for the whole year, but there was so much transition this year: losing the Captaincy and then losing the A, being moved to center from left wing and making the second half of the season happen with Zach Parise and Jamie Langenbrunner as well. Patrik was HUGE in the playoffs though. With six points in five games, (I'm discounting all the Devils huge minus numbers for a ton of reasons I will get to at the end) Elias again re-emerged as the Devils' best forward in key situations!
Season: B
Playoffs: A
Travis Zajac:
Sophomore jinx and spoiled arrogant fans who forget how young this kid is. HE'S ONLY 22 and WILL get better, but still — 14g/20a and a -11? That's not gonna get it done on this team, especially when he was expected to be the key #2 center. I have to think next year will be better. And for the idiots calling to trade him? You only make me go to bed thanking whatever powers-that-be out there that none of y'all are the damn GM of this team!! It wasn't his year this season and yes, it BADLY hurt the Devils. BE PATIENT!
Season: D
Playoffs: C-
Brian Gionta:
Possibly the hardest guy to evaluate on this team. Second in goals (22) and third in points (53), but both numbers aren't where they should be. Not having a solid line to let him go to the net and raise hell hurt him, as did not having a legit PP shot to get to the net, a la Rafalski. I really like most of the pieces on this team, but they just need one or two players to bring the mix together to again make one SWEET-ASS cake. Also seemed like the game one injury in the playoffs that sidelined him affected him all playoffs too — you could see it when he'd try to turn and pivot.
Season: C+
Playoffs: D
Zach Parise:
Well thank God he finally got a defining scar to make him much less pretty and more like a hockey player! The kid, for the most part, was our game in and game out most consistent guy for all 82 matches and the beating he took in the playoffs shows the Rangers thought so too! There's nothing not to like about this kid: his game, his work ethic, his skills, and now even his SCARS!! This is only beginning, it's gotta be!
Season: A
Playoffs: A
Sergei Brylin:
Ugh, this is rough. If this REALLY is the end of the road for Sarge, the last memory I will have of him is his dive to the net after Marty pooped the bed on the Callahan back-breaking goal in the playoffs and him just lying there hoping to move time backwards for that second. It's a shame — good solider, loyal trooper, classic team guy, but it's over Sergei. Time to move on, we don't have a role for ya no more, you don't score enough and you could do yourself some good, say, killing penalties in Dallas maybe. Yeah it does hurt to say it, but it's time to turn the page.
Season: D+
Playoffs: C
Dainius Zubrus:
38 points isn't going to cut it for the expectations placed on this bad boy. (well, unless it was like 22 goals and 16 assists) It was a tough year trying to figure out where to stick a quality piece into a very confusing puzzle. (you know it's not like sticking the cheesy word Q on a Scrabble board!) He should be better next year with the proper time to acclimate to the system and maybe some better line mates to skate with. He was solid but ineffective in the playoffs.
Season: C-
Playoffs: C+
Jamie Langenbrunner:
Quite possibly never REALLY got on track from his pre-season injuries (13 goals and 28 helpers even in a shortened season wasn't that good for what was expected here), but the dreaded weight of the Captaincy and maybe a sense to hurry back to help the team was more the culprit rather then a decline in skills. Also was probably out of place trying to keep up with Elias and Parise. (but that line never should have existed anyway) Hopefully, a long off-season helps him be 100% ready to go next year.
Season: C+
Playoffs: C
Jay Pandolfo:
How sad is it that the Dallas Stars killed his season? He fell over after whiffing on a blast that roasted Marty Turco but got iron, he fell down and broke his manly bits and was never quite the same again. Well, scratch that. He was the same, but it was some of the old same Jay.
Season: B+
Playoffs: C-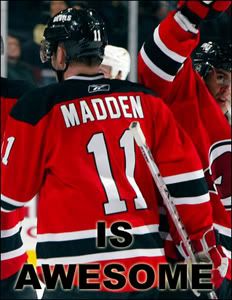 John Madden:
The best and most consistent forward on the team all season. (imagine what he could have been with a guy like Sutter coaching him through his whole NHL career!) Won faceoffs, killed penalties, scored goals, and scored 20 goals! What the hell else could you ask of Madden? Not too many bad things to say about this guy.
Season: A
Playoffs: A
Aaron Asham:
Worthless, barely fights, somewhat hits, and the offense was way down from what would be required of him to be useful. Never really did anything to win anyone over aside from the classic "whatever incident." Like, oh my GOD.
Season: D
Playoffs: F
Mike Rupp:
I don't know how or why, maybe it was the playoffs, maybe it was flashes of life with Zubrus, who knows. The big oaf grew on me! He's still got the worst set of hands I've ever seen in front of an NHL net and needs to have lightning strike to score goals, but with a more capable fourth line around him, I could put up with him for another season, provided there are upgrades around him! Not a big part of the problem, but not really a solution either.
Season: C
Playoffs: B
David Clarkson:
Still a frustrating player who thinks more china shop and less bull inside. Just needs to sit down and watch Randy McKay footage until his eyes bleed. Also needs to elevate the nine goal total to the 15-18 range and all will be good.
Season: C+
Playoffs: D
Rod Pelley:
Two goals and four assists in 58 games isn't going to keep him on the big club for too long. (though I think that was our TOTAL from the fourth line of the year before, like, seriously.) Highlight of the season was his two bad angle goals and him somehow managing to get high sticked in the face TWICE and drawing blood TWICE versus the Penguins! Him playing steady minutes and helping on the penalty kill may open Madden up for an even more offensive role next season. Deserves a chance to get better here.
Season: C-
Playoffs: N/A
DEFENSE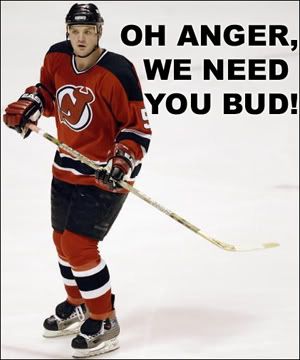 Colin White:
Well, one-eyed Whitey had a ROUGH year indeed.  He struggled mightily coming back from that eye injury he had (a lesser player may have called it a career), but he bounced back to play a steady – but not as good as years past – 57 games.  He ate alot of minutes, and had to help out Mike Mottau way, WAY too many times, but it's reasonable to say he's slipped down the depth chart and can no longer be considered a prime minute-eating defender (though this could change come October mind you).  Also wasn't a physical monster like was NEEDED in the playoffs, but I would hope at only 30 years old that there is more good in there than bad.
Season: B
Playoffs: C+
Paul Martin:
Really stepped into the gaping void and took the minutes needed to play atop our rebuilding defensive corps.  Made anyone who played with him better, and as displeased as I was, philosophy-wise, with two mobile guys on the same pair, I can't argue with the results and how he elevated Johnny Oduya's game – and that's what good players do! I'd love to see that point total jump from 32 to about 50, and we could call him a legit top defenseman in this league, but again he's only 27.  Speaking of 27… at age 27 he's more developed and complete a player then number 27 was at age 27, so that's a good thing!  Early in the playoffs, he was the best PLAYER on the ice, but he was beat up a bit as the series wore on.  The one defender you can say no ill about this year.
Season: A
Playoffs: A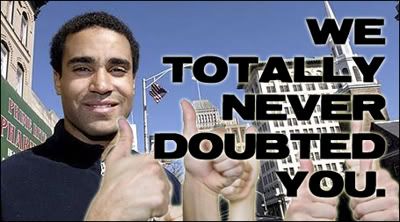 Johnny Oduya:
What a turn around season for him, wasn't it? He went from the Andy Greene list of people wanting to blindly trade him, to scoring the most amazing Devils goal of the season against Carolina, to being the fastest and second best defender behind Paul Martin.  He got beat up a bit in the playoffsas well, but add a steady Salvador or banging type defender to compliment his style and skills (not to mention to cover when Johnny cuts into the play – which he needs to do a little more)… and you'll have a very good second pair defender here! And remember I TOLD YOU SO ON THIS GUY IN OCTOBER!!!
Season: B (not enough points to carry this team)
Playoffs: C (the weaknesses of this pairing with Martin were exposed)
Andy Greene:
And you think Travis Zajac had a tough year? Oh MAN!  Look what happened to this guy through the season.  Disappointing offensive numbers – he was likely expected to enhance his six points in 23 games from last season, but it didn't happen.  He's also only 25 years old, and you don't throw away kids like this (look at Oduya –  Washington tossed him aside!).  Whether it was problems with the system, the sophomore jinx, whatever – there's skill here that needs some more time to be developed and enhanced - not tossed away so people can whine to trade back for him in three or four years.  Bad seasons happen, and it amazes me how many people are ready to flush talent away when there is NOTHING to replace in the ECHL or AHL behind him!
Season: D
Playoffs: N/A
Sheldon Brookbank:
I like this kid, to be honest.  He has a decent shot, good size, and he's 27 so he may have a year or two more of improvement.  Plus, he was acquired for NOTHING!  He can fight and hit, and isn't a putrid skater.  He just needs to learn to keep the booming shots AWAY from his teammates.  He's still a project, but totally worth coming back one more time.
Season: C
Playoffs: N/A
Mike Mottau:
Smart, aware, steady…but slower than dirt.  A better and more offensive-minded version of Richard Matvichuk, who was good enough to be a 5-7 defender.  Putting him on the second pair was made worse with one-eyed Whitey as his defense partner – that was NOT a good mix.  His 17 points and four goals were nice modest numbers on the blue line.  If the defensive scoring wasn't such a gaping void to be filled, it would be tolerable, but defensive scoring WAS a problem, and Mottau alone wasn't the answer.  Could be a serviceable depth guy (like Salvador), but I'd not cry if he never returned.
Season: C+
Playoffs: C-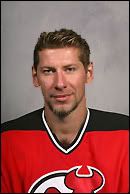 Vitaly Vishnevski:
Ah, the two-hit wonder.  He had a decent enough playoffs knocking people around, but doesn't really seem to have the skill and ability to be a good minute-eating defender, and seems to go crazy at times to make the big hit.  That -12 +/- rating is a massive eye-sore, but hopefully some training from Larry Robinson can help this guy,  but I won't cry a river if he's sent on his way.  I liked his playoff effort, but this was more a choice made because of the match-up, as opposed to player merit.
Season: C+
Playoffs: B-
Karel Rachunek:
Never really got a good vibe on him this year.  Giving him number 28 so he looked like some weirdpseudo-Rafalski was a BAD decision.  Had the penchant for jumping up in the play and hitting the home run on the one timer or totally messing up.  There wasn't much in-between the two, and it became obvious his heart was NOT in playing in the NHL.  So good riddance and off to Europe with ye!
Season: C
Playoffs: N/A
Bryce Salvador:
Saw more playoff games as a Devil than regular season games.  He proved to have a killer blue line shot after all, though.  Good depth player, it would do the team well to sign and keep him here for 2-4 years.  You don't notice him alot, and that is the best thing you can say about him.  Would love to see a season of Bryce and Oduya on he same pair together.
Season: Incomplete
Playoffs: B+
GOALIES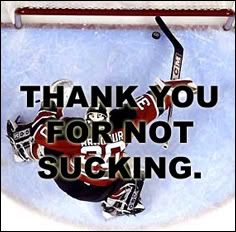 Martin Brodeur:
Can someone PLEASE tell Marty that he's 35, and 77 games is completely unneeded and not expected of him?  For most of the year, Marty was Marty, and that the is alleged gold standard in the league.  But then it becomes April, and it seems like his will to win slips some and he starts making mistakes – and great players come up GREAT in great situations.  When you have Ranger fans telling you in all seriousness that this year was the first time they saw Marty in nets and weren't scared of him, it tells you ALOT about where the guy is and where he needs to be.  Stop being a stat compiler and fill your damn ego by hoisting more Cups then your little crazier idol!
Season: A
Playoffs: D (not to mention it's pathetic that you let a stumbling moron like Avery get to your head like you did)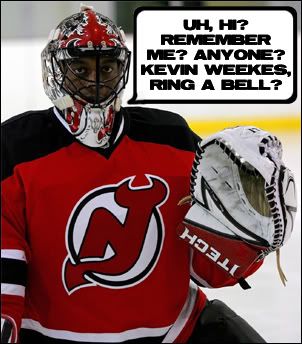 Kevin Weekes:
Every year I feel totally bad for our backup goalie as he gets his face smashed into the glass ceiling and rubbed into it like it's a steel cage in a bad wrestling match until he taps out, and this year is no different. Any goalie that can sit and watch 77 games like this and not want to go home and hang themselves, I give credit to.
Season: A
Playoffs: N/A
Brent Sutter
I like Brent Sutter.  I think he's made big steps this year.  His forecheck and pressure attack style offense (which I LOVE by the way) didn't work because of lack of personnel, so he adjusted.  I think as the years go on, this team will get more Sutter-ized, bigger and faster and maybe even meaner!  He learned to take his time-out mid-games in key situations to get the guys re-grouped and ready.  He even settled down on his line and D-pairing shakeups, though I wish Parise and Elias would have been separated, ditto Oduya and Martin, but a lack of talent may have dictated this.  I also really wish the guy would LIGHTEN UP a little.  Seeing him yell and scream on the bench at the team during a 5-1 blowout win was not a good thing – relax, crack a joke in the press conference, SMILE for Christ's sake! But I think that too will come around.  And hell, he made it through an ENTIRE season AND is possibly being groomed as the Lou replacement in the Front Office in the future.  Nothing to dislike here.  Coashing stability will be key in off-season moves and the team's direction in the coming years…
Season: B (Plays Brodeur too much, but who DOESN'T)
Playoffs: C (learning curve totally)
FRONT OFFICE
It's easy to rate the team's results by saying "well look, they finished 4th and got whipped in the playoffs," but it's really not that easy sometimes.  Maybe the biggest mistake Lou did all year was to not even call Brian Rafalski before July 1, letting him leave for nothing when a reasonable three-year deal probably gets it done. 
"But Lou didn't sign a big time Free Agent!"  No he didn't.  Look at the ridiculous money thrown out last year for stiffs like Souray.  I don't think we were ever legit players in the Drury/Briere competitions, which was about the only way we could have gone.  And also, who really expected Zajac to be THIS bad after a solid first year?
"But we didn't make a trade at the deadline for a big player!"  To this I say GOOD!  Our prospect system is BARREN at best – this is the first season since I've followed this team that we didn't call up a guy from the AHL who stepped in, produced and remained a fixture on the team.  The prospect cupboard is in DESPERATE need of re-stocking now; thankfully we have a first round pick and ALL our draft picks to re-tool the system.
But even with that in mind, they got Bryce Salvador and Sheldon Brookbank for basically nothing this year, and that's really not as terrible as this spoiled, over-the-top demanding fan base! Needless to say, this off-season?  HUGE.
Grade: C+