Congratulations to Mr. Christopher S., aka "rico" of the glorious 2MA commenters nation.  Christopher's zubmission featured two things – pronostication (he called it, you'll see, in a previous thread) and an 80s one-hit-wonder.  That's a tough combo to beat right there.
Congrats Chris, and to everyone else – here's to hoping we add another ZubbieCounterContest entry tomorrow, yes?
On a related note, I promised something the other day.  When the ZubbieCounterContest was first announced, we said "undetermined free swag" would be awarded to the person who's ZubbieCounterContest zubmission was voted to be the best at the end of the year.  Well, some of the swag is still undetermined, but we do have at least this for the winner, and I can guarentee you, no one else in the world will have one of these but the winner of this contest: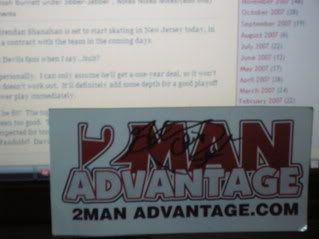 What you are looking at there is a 2 Man Advantage sticker, one of few left that was never distributed last year.  That writing on it?  That'd be the autograph of former Devils goalie and color commentator Glenn (Chico) Resch.  As I said, I promise you, the winner of the contest will be the only man/woman on earth who can claim they own a 2MA sticker autographed by Chico.  (Please note:  Chico does not have anything to do with the contest, and probably is unaware of it.  He was just nice enough to sign an autograph for me.) Other swag – likely including a 2MA shirt of some sorts and other fun stuff – will be determined as time goes on.
Now that we know what we're playing for, boys and girls, I expect to see your 'A' game each and every time Zubbie scores from here on out!  Keep 'em rolling, and as always, thanks for reading and participating.